Cordless hydraulic cable cutters, Manual cable cutting tools, Cable cutting hydraulic heads, Hydraulic cutting cable units.
Features:
Hook style cutter head for convenient open and close. Wires could be put any position.
The head could be rotated at 180 degree for adjusting working angle.
Assembled with safety valve to release pressure automactically to protect tool.
The tool could be operated at 360 degree. Especially suitable for operation at no foot hold field or at high altitude.
| | |
| --- | --- |
| Item No. | CPC-85H |
| Output | 9ton |
| Length | 600mm |
| Cutting Range | Φ85mm |
| Weight | 8kg |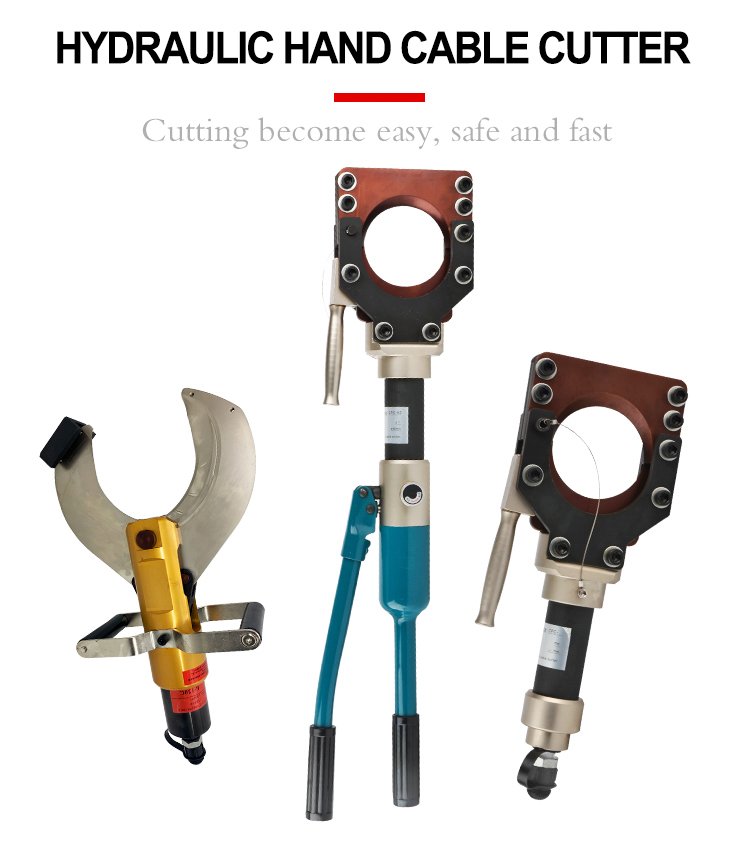 Hydraulic cable cutter equipped with hand pump or electric hydraulic pump
Hydraulic hand pump and electric pump details as belowing:
Integral hydraulic cable cutter
DO NOT CUT ACSR! Suitable to cut off high voltage,IV cable and telephone wire.The blade is made of high carbon alloy steel to cut copper-alluminium wire and telephone cable.
| | | | |
| --- | --- | --- | --- |
| Model | Output | cutting range | Size(mm) |
| CPC-50 | 7T | copper-aluminium armored cable with diameter below 50 mm | 615x170x110 |
| CPC-75 | 8T | copper-aluminium armored cable with diameter below 75mm | 730x183x110 |
| CPC-85 | 8T | copper-aluminium armored cable with diameter below 85mm | 735x183x110 |
| CPC-95 | 10T | copper-aluminium armored cable with diameter below 95mm | 835x183x110 |
Separated hydraulic Cable Cutter
| | | | | |
| --- | --- | --- | --- | --- |
| Model | Output | cutting range | Size(mm) | Weight(kg) |
| CPC-50 | 7 T | copper-aluminium armored cable with diameter below 50 mm | 615 x 170 x 110 | 4.5 |
| CPC-75 | 8 T | copper-aluminium armored cable with diameter below 75 mm | 730 x 183 x 110 | 7.7 |
| CPC-85 | 8 T | copper-aluminium armored cable with diameter below 85 mm | 735 x 183 x 110 | 8.0 |
| CPC-100 | 12 T | copper-aluminium armored cable with diameter below 100 mm | 590 X 260 X 106 | 11.6 |
| CPC-132 | 15 T | copper-aluminium armored cable with diameter below 132 mm | 685 X 273 X 110 | 15.8 |
| CPC-65C | 60 KN | copper-aluminium armored cable with diameter below 65 mm | 430 | 7.5 |
| CPC-105C | 120 KN | copper-aluminium armored cable with diameter below 105 mm | 470 | 8.2 |
| CPC-120C | 120 KN | copper-aluminium armored cable with diameter below  120 mm | 500 | 9.1 |